In an industry dominated by men, MOM is a creative duo – composed by Rachael and Matt – standing up for representations in the cinematographic and filming industry since 2019. "The name is important to us because even though more women are working in film today than ever before, it's still a very male-dominated industry. Women working in key behind-the-scenes roles only make up 34% of the workforce, out of the statistics Indigenous women only make up 1%," they explain. Aware of the deep inequalities in the independent films industry, MOM is a duo that aims to create different dynamics on set. For Rachael and Matt, films are one of the most efficient ways to tell stories. "There is something magical about films that allows you to express an emotion or moment," MOM says. Constantly evolving, this medium never stops inspiring them. "There are constantly new ways to make something interesting. We will never get bored of that."
Everything began when Rachael and Matt met on set. Both were studying in art schools and were working for other companies. Their collaboration came truly naturally. It opened stimulating ways to create and make art. More than a working partnership, they are also romantically involved and it certainly adds something to their creations. "Together, we function as one unit, a modern-day love. Our relationship is a form of protest that breaks the traditional hierarchy and gender stereotypes within intimate relationships." It is a beautiful thing to be able to create with the person you love.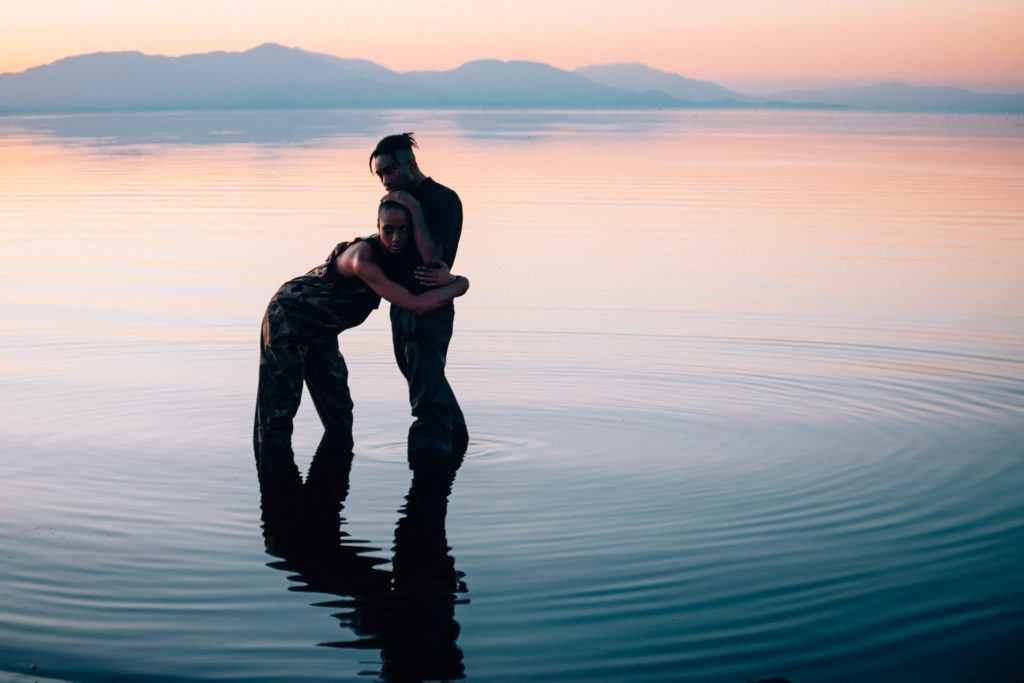 Based in Tongya Land – also known as Los Angeles – Rachael and Matt explain that "it's important to acknowledge Los Angeles is a stolen Indigenous land." The film industry has largely profited off Tongya Land "with little to no representation of Native people within it." This era stretches across multiple cities in Southern California. "Yet the Tongva Tribe has no federal recognition, no designated reservation lands, and no regular acknowledgement within one of the largest cities in the United States," as they mention. Above gender representation, MOM also wants to tell the real story beyond the mainstream psyche that doesn't necessarily acknowledge the former residents. It is about highlighting the origins and sharing the truth behind every aspect of their environment.
In line with this vivid desire, their last project, 'The Last Stop', is taking place in "the Salton Sea in California, Cahuilla Territory." This series of photos and Super 8 motion film + 8mm tape follows "Fulani, also known as Prince Fufu, a black queer femme model, performance artist, and visual actor with her love Emy Bop around this vast sea for the day." Mom directed this project in The Salton Sea for its history and transformations. "It was once a vacation getaway to those trying to escape Los Angeles, and now the body of water is considered toxic waste," Rachael and Matt explain. Today this land is deeply damaged. The lake's sand is made of white fish bones and the air is filled with pesticides particles. The duo is adding that "Not only is this lake evaporating, but the rising dust is already causing major environmental threats to the local communities surrounding it."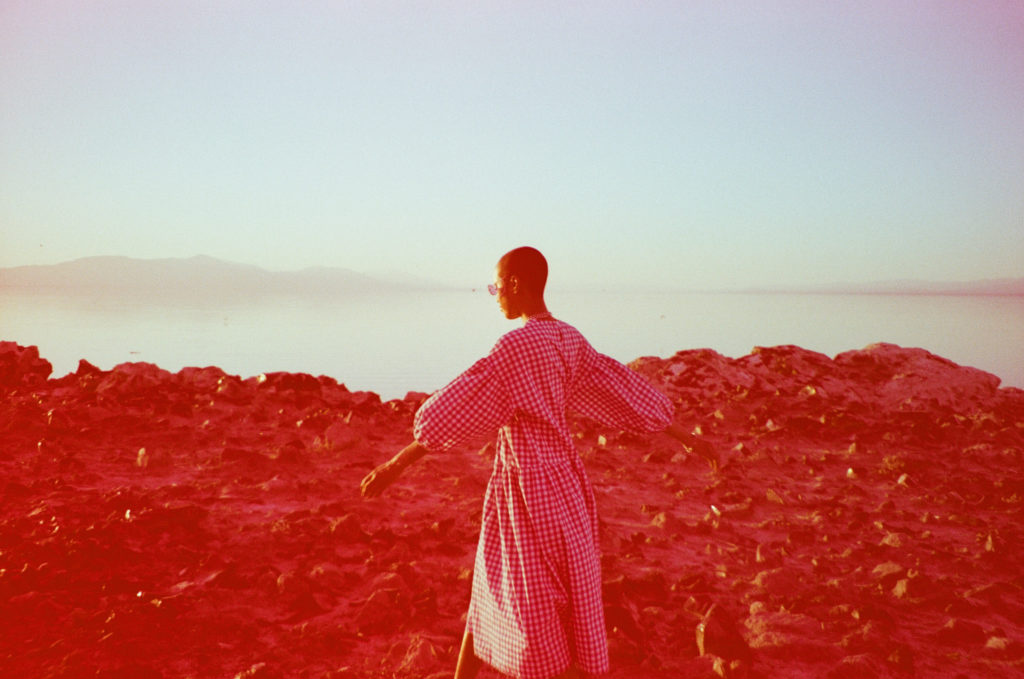 The Last Stop' is a collaboration involving talented creatives from Aimée Finley at the styling to Kasha Lassein at the make-up. Auto-financed by the duo MOM, they spent a day driving out to the desert in a minivan. Fulani – as the main protagonist – introduces us to the Salton Sea with her partner Emy Bop – also an artist. Together they are revealing the sad story of this forgotten area. Many studies have shown that this location has one of the worst air quality in the country. "One in five children in the area surrounding the Salton Sea have asthma. In addition, adults are getting lung cancer at extremely high rates. Many of the people and businesses that once relied on the lake have left, driven away by the smell of dying fish or the fear of health problems," adds MOM. Through this project, they wanted to reveal these largely untold narratives that have harmful consequences in our lives.
In contrast with this polluted environment, the duo selected two environmental conscious brands. "It was important for us to highlight designers like Erika Maish who are using recycled materials and April meets October which is a brand locally based in LA." The fashion industry is one of the most polluting fields after oil. By combining responsible brands with the Amazon fishing waders – received one day after the former order and worn by Fulani and Emy in the lake scene – the duo wanted to raise the question of responsibility within our consumption and the impact it has overall, for us and the following generations.
Because it could be 'The Last Stop' before the extinction of our humanity, MOM wants to bring hope and encourages a society more aware of its damages and impacts. Most of all, their wish is to avoid the collective consciousness slowing down and to inspire humanity to educate itself – especially when it comes to hidden stories. Although 'The Last Stop' is a finished project, we should not stop improving ourselves and acknowledging the consequences of our actions.
Credits
Shot by: MOM
VFX: Matea Friend
Titles: Alex Orea
Assistant Camera: Emy Bop
Featuring: Fulani & Emy
Costume Designer: Aimeé Finley
MUA: Kasha Lassien
Fashion Designers: Erika Maish & April meets October