Even though this editorial was not created to highlight this uncontrolled context, this simple title can resonate with our actual lifestyle. When it comes to garment, the notion of 'losing control' drives us to a reflection on the role of clothes on human bodies. What are the functions of clothing? What kind of power can they have on us? How can they transform our bodies and have an influence on our behaviors/movements?
Behind this strong editorial, there are two talented creatives based in Montreal. Yannis Davy Guibinga, from Gabon, a well-known photographer in the fashion industry and Tristan Réhel, an emerging designer currently studying at the École supérieure de mode at UQAM. Both have already worked together a few years ago and 'this collaboration just felt like a natural progression from the first series [they] did together', as mentioned by Yannis himself. Besides this intuitive feeling, Tristan felt in line with Davy's aesthetic: 'The way he sees colors really talked to me.' The beauty of such partnership gives a highly interesting visual experience to the viewer. Stimulation given by colors, shapes and perceptive is at the heart of this creation. Platform has the honor to introduce this editorial along with an interview of the two creatives behind it.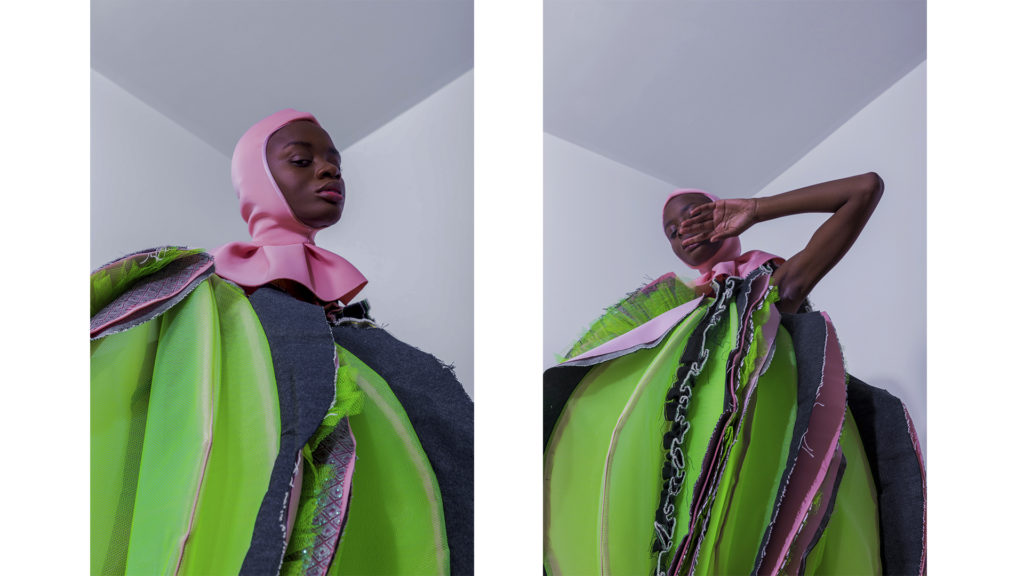 How did you explore the notion of 'losing control' in this editorial?
Yannis: I think the notion of losing control comes through more so in the clothes the model is wearing, especially in regards to how unconventional and out of norm they are.
Tristan: In this editorial, I wanted the clothes to talk for themselves. They are designed to lose the shape of the human body making it into an almost cells-like creature. The model was in this state of losing control, losing the perception of her reality and morphing into these garments.
Could you go deeper and explain the meaning of in your last collection 'Losing Control'?
Tristan: My collections are normally really personal on an emotional perspective and so is this collection which is called 'Losing Control'. It's called losing control but it's more about the actual fear of losing it. During my creative process, I tried different ways to get ideas. I tried to stimulate my brain once, while creating, but I had a bad trip… this subject is always a little sensitive for me because I'm usually against all forms of drugs but I was wondering how it would affect my creative process. So that was the first idea for this collection. Then, I had many inspirations that helped me create this collection. I worked around the symptoms of a bad trip and the work of two artists, Brian lewis Saunders and David Altmejd. I wanted this creations to explore the contrast between losing control and keeping it. I was working around this fine line where you are conscious that your reality is becoming blurry.
How would you define and explain your creative process?
Tristan: When I create a new collection or new project, concept is the first thing I work on. I want my creations to have a strong concept and then I can start to draw and experiment shapes, textures and techniques. My aesthetic is dark and colorful, weird and eye-captivating, theatrical and genderless. So when I create, I always have this in mind. I like to use color in a mysterious ans sensitive way, even if its neon green, pink and red. For these looks, when I designed them, I closed my eyes to sketch the shapes. I didn't want my brain to control my hand, I let it all to hazard and the shapes appeared. My work also has a lot of unconventional materials usually, for example, the look with the pink ruffles has metal wires inside to make it stand straight on the model but it can also be molded into different shapes because of the metal inside of it.
How would you define Yannis' work and aesthetic?
Tristan: Yannis and I work well together because our works have similarities. His way of using colors and seeing them creates photography that is instantly recognizable. When you see a picture of Yannis, you immediately know it is from him. He has a way of capturing everything with a sensitive eye. By everything, I mean the clothes, the light, the model, the skin, the emotions. All in one. That is a great quality . Like I said before, I work with a lot of colors and color combination and it is something very important to me in photography but also the emotions held in the model's eyes. By using a fashion approach, Yannis captures the essence of the collection and the clothes with ease and he's not scared to take different angles and frames to shoot the clothes.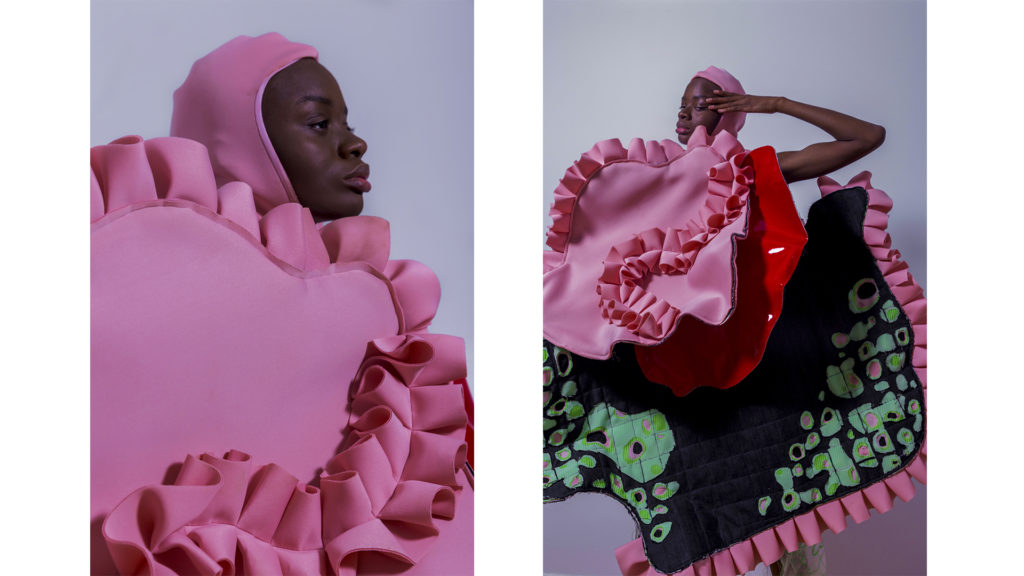 According to you, why it is so important to collaborate with emerging designers?
Yannis: It is important to me to collaborate with emerging designers because they are often the ones with the most innovative and interesting ideas that contribute to the general conversation in ways that have not been done before. As an emerging creative myself, this kind of collaboration is important for me because it allows both parties to grow and create something amazing.
I know that all your work is mostly focused on black bodies, thus, how do you think you contribute to redefine the black beauty/aesthetic ?
Yannis: I think the black aesthetic is being redefined by many artists from the African continent who are creating images that are telling new and more authentic stories about where we come from. Historically, the image and beauty of Africa were always questioned in order to serve a specific colonial agenda. With my work, I try to contribute to a fight against this colonial agenda still persisting today by showing a more nuanced and complex vision of Africa, its beauty and its people.
How your fine art approach has an impact on your work in the fashion industry?
Yannis: I think I don't really differentiate my fine art and fashion work when it comes to the approach because for me these two different aspects of photography share a same universe so I tend to approach them equaly. I use a lot of fashion in my fine art work and use a lot of the composition and framing techniques I learned from fine art in my fashion work.
A lot of your stories – 'The Darkest Colour', 'Pigments and 'Man of Gold' – are related to black imaginary, history and culture. What it is the story behind this editorial?
Yannis: A lot of my stories do relate to a specific aspect of black culture but for this one I was mostly focused on telling a story about the clothes and building a world around that. The way the garments looked inspired ideas of Afrofuturism, fantasy and science-fiction so I used those as a directive to frame the images.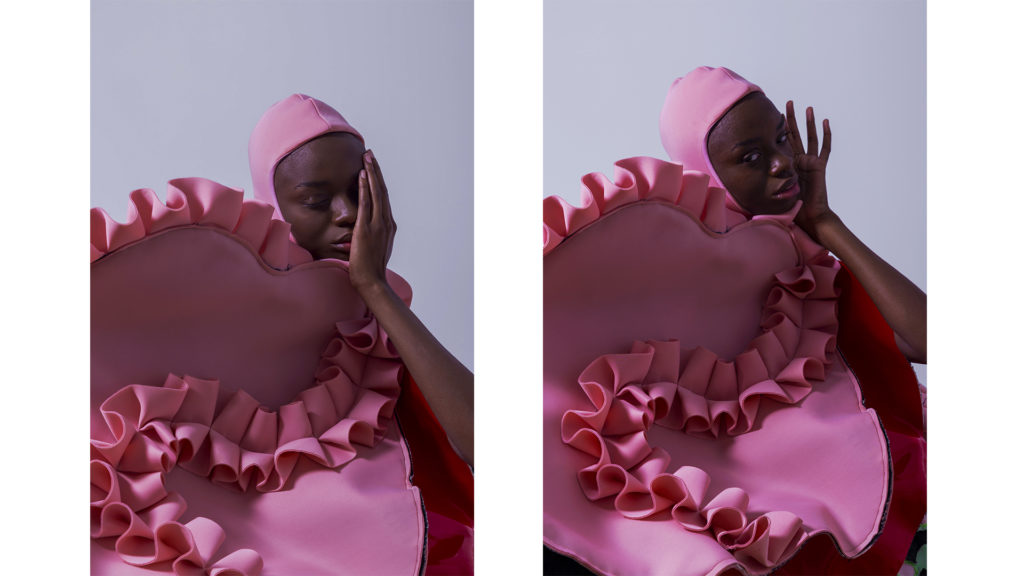 What is the role of fashion in our society according to you?
Yannis: Fashion is a way for people to express themselves and represent their uniqueness and individuality to others. It allows them to use their cultures, experiences and inspirations to tell a story about the place they want to have in the world and the person they want to be. With many designers using their work to communicate a particular message, we also see that fashion can be used as a powerful tool to make a commentary about contemporary society.
Tristan: For me, fashion has evolved so much with time, the possibilities are limitless. Fashion is everywhere now, in movies, in stores, in museums, in galleries and even more. Before, the only role of fashion was to dress the body and be utilitarian. Now fashion can express a feeling, a concept, it can protect some people, help others, be recycled, be experimental, be scientific. It's crazy to be part of a system so diverse. The role of fashion for me is to express my thoughts and feelings. I like to consider myself more of an artist than a fashion designer because I create for myself. I create because I want to and also because I have an idea.
What are your hopes regarding the future of fashion industry?
Yannis: I hope for better and fairer opportunities offered to minorities and people of color, as well as the dismantling of the nepotist and gatekeeping systems that are present in the fashion industry and that are preventing new and innovative voices from having a space.
Tristan: I think that now more than ever, with the Covid-19 situation, we are seeing a shift in all the cultural spheres but especially in the fashion industry. Fashion weeks are being cancelled and reported all over the world and it makes people realize that maybe things were going a bit too fast. My hopes would be in this direction, I think. People need to take a moment and breath, creativity and innovation need to breath and to grow. I put myself so much pressure to always come up with new content and new projects all the time but it's okay to take the time you need to create and explore possibilities. The fashion industry definitely needs to learn from what we are living at the moment. This is an opportunity to develop new ideas, to reflect and innovate in the way we showcase new collections, to develop alternative ways to fashion weeks! As scary as this situation might be, I also think something exciting may rise from it! I often tend to see the positive side of life.