Welcome into Florentina Leitner's universe, where volumes and structures are totally reviewed. Singularity is the perfect term to describe Florentina's creations. Far from creating standard garnements, I truly think that she chose the perfect environnement to let her creativity run wild. After focusing on knitwear in high school while she was located in Vienna, she is currently studying in Antwerp (Belgium) at the Royal Academy of Fine Arts.
"Antwerp is a great city. I defiantly recommend visiting it, it has a lot of nice vintage designer shops and flagship stores and there is also an interesting art scene going on. The biggest plus about living in Antwerp is though that you are in the middle of Europe and you reach cities like London, Amsterdam and Paris very easy by a quick train ride.»
Fore sure, Belgium has a notable place in the western fashion history. Before becoming a spot to study fashion, it was a inevitable location within the fabric trade. Brussels is definitely not the only city that deserves attention, many fresh spirits, ready to deliver their vision are located in Antwerp.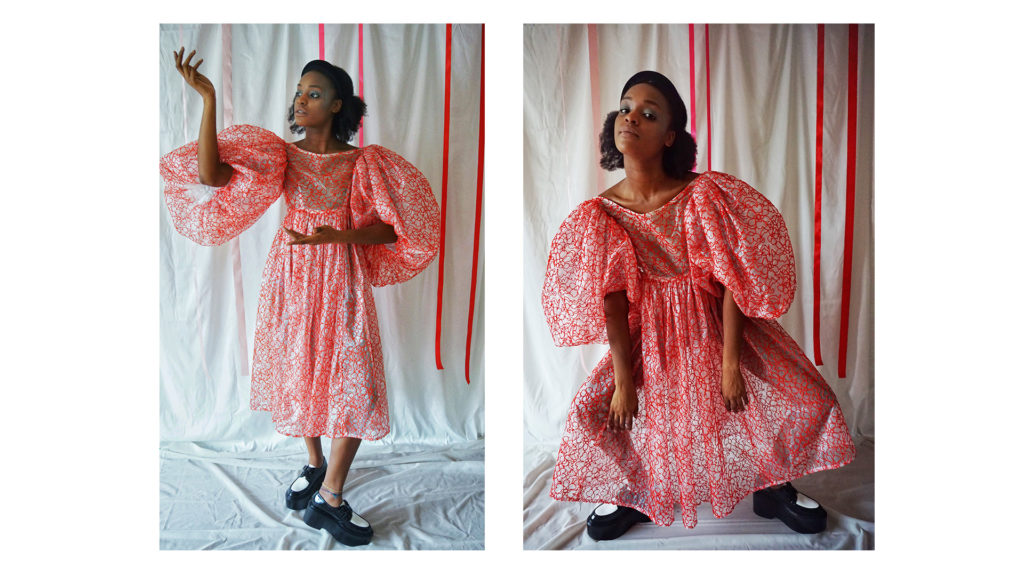 When you first hold Florentina's creations – especially the big dress – it is as if an experimentation was about to begin. Trying to fit into this specimen is also another adventure. This dress from her 'NO CLUE' collection was inspired by the boardgames 'CLUE'.
Behind those garments, a crime story is hidden. Her dress is clearly a re-interpretation of the blood red dress from a crime scene victim. Of course, her version has much more softness and mischief, especially with those candid embroidered flowers. When you enter into Florentina's creations you might feel as a character that has a destiny and a role to fulfill in an entire game. It is this playful idea that Florentina wants to share.
"The bigger the better haha. I always was a fan of big garments, oversized pullovers, big puffer jackets or dresses with big sleeves. That's why you will see those elements in my collections a lot. I want to make people feel what ever they want to feel. My clothes are very loud and colourful so I hope they make the people wearing them happy in a way. »
I've been seduced by her dress and I happily played my part into her 'No Clue' game. I can't wait to see the other theme of her next collection. I'm curious to see what could be re-interpreted by her and how she will materialize it. I'm sure she will find another way to surprise us with another playful collection. Just be prepared to play the game.