Without surprise, I personally think it is the best city on the actual fashion map – only if I consider the western conception of fashion week. Not only the independent labels have a real place to express themselves, but I feel that they face an audience willing to go above the conception of main fashion. This is the place where creativity can genuinely blossom and can be mixed with current social issues. The designers do not always have a deep message behind their creations, however, in this city, personal commitment can go along with a new collection. If you have something to say, you'll find people to listen to your manifesto. It wouldn't be fashion without the business aspect or even the necessity of showing-off, but, those aspects are not prevailing.
Because the vibe is deeply different at LFW, it appears like the perfect time for emerging designers to reveal what fashion really means to them and also to define their contribution to the industry. The public takes them very seriously and gives them the same credibility and legitimacy than big well-known labels. When you feel desperate by the fashion industry, just look at London emerging designers, it will give you hope. Due to them, you can find meaning to the contribution of fashion to our entire culture. While the actual system seems irrelevant and full of superficiality, they spread an authentic way to do fashion. Choosing among them was not a simple task, however here are the 3 shows and presentations that can efficiently underline the value of LFW.
Friday, September 13th – 9.30am – BFC Discovery Lab 180 Strand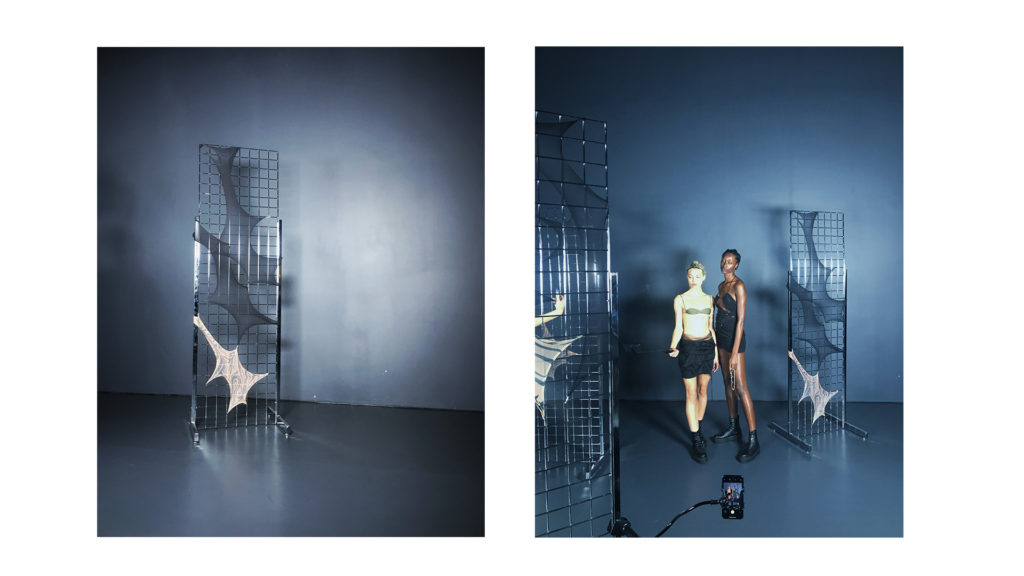 Just graduating from BA at London College of Fashion, Nensi Dojoka is joining for the first time the LFW for the SS20. While using a lot of technology for this presentation, this designer – originally from Albania – puts us on a playful and really stylish setting. A live video is projected at the back of the room and models are playing with their iPhone and selfie sticks. In this unapologetic narcissism ambiance, we can clearly also feel a sphere totally turned on sexiness. With her stripped silhouette, Nensi is deconstructing femininity to build an alternative definition of this notion. While pushing the boundaries of the traditional styles, she is introducing a new acceptance of sexy. She brings the lingerie techniques into her womenswear collection with a lot of unexpected twist and contrasting styling elements. This young designer's approach is undeniably bold and provocative and I'm really curious to see the evolution of her eponymous label.
Monday, September 16th – 9am – 180 Strand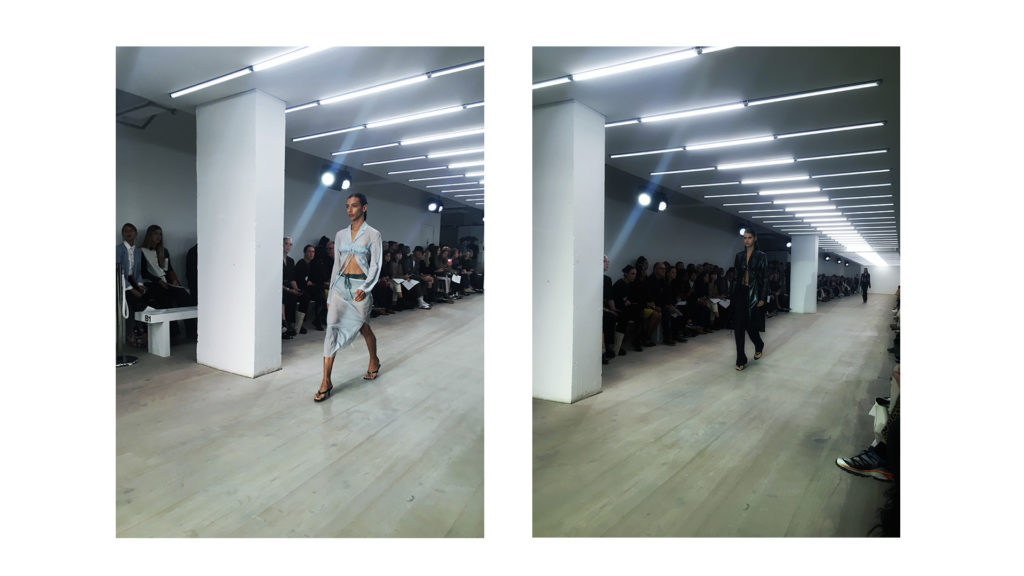 I was so excited to see this show and I had a lot of expectations because I followed Supriya for a while now. One of my first article was actually about her label. No lateness possible, I was right on time. Her SS20 collection was quite short, 18 looks – but when it comes to her work, we never have enough. While the silhouettes are quite structured, we can see a true research in terms of fabrics, shapes and details. Lele's fashion vision is as complex as her own identity. When you can be fooled by the fact that her designs are totally wearable, you can also be very surprised by the layers of sophistication she puts in her creations. By having a foot in 2 cultures, she is using cleverly this versatile part of her identity cleverly through her designs. Supriya gives us an interesting version of minimalism this season, deeply influenced by her Indian heritage. Her very nuanced interpretation brings a pleasant twist to minimalism. Those designers also strip and carry a deeper message around self-acceptance: 'These ideas of these skeletons of your identity . . . the damping down of the identity you go through as a teenager—and then finding your confidence to grow into a woman and find yourself.' The day after, Charlotte Knowles has also presented her SS20 collection. I have to admit that I was very dazed to notice such ressemblance with Lele's collection. Besides the outfits, it felt as if the casting was also the same. I don't necessarily believe that we are facing a copycat situation but I do think it possibly highlights a pattern.
Tuesday, September 17th – 2pm – 180 Swiss Church 79 Endell Street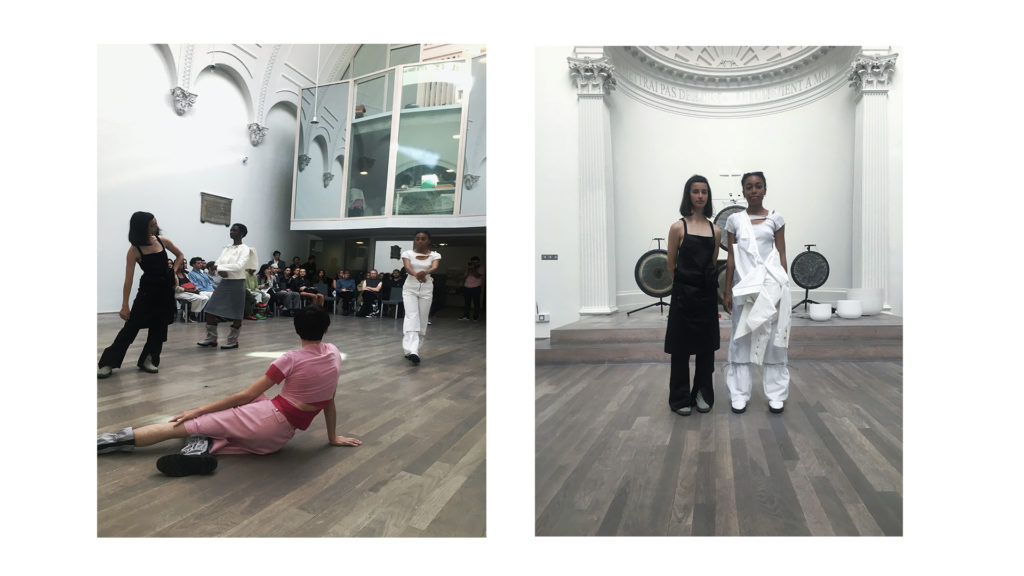 Last but not least, René's new collection was the last I've seen for the LFW. Even now, after a few weeks, this show is still one of the best I've seen this season. For a while now, I've paid careful attention to René Scheibenbauer's work. His past collection – Empathy, Reconnection, Play – already underlined a very interesting approach. Presented last summer as a graduate show from Central Saint Martins, René wanted his community to think about the way they interact with items. Through these art-therapy workshops, we explore the emotional and physical sensations in clothing. For his last collection: Phase II – Empathy, Reconnection, Play he develops this idea further and also in a concrete way. With his study on garment, René explores the clothing as a real tool of communication. His community gathers people from different horizons which makes those workshops pretty interesting and relevant. Each profile relates differently to the choice of clothes. Different garments make different people feel comfortable and anchored. The result of this though and perception is translated by a collection mixing workwear, tailored details and smart evening clothing elements. The item I can't stop thinking about is his workwear inspired boots. Besides his fascinating collection, the show was also an unusual performance. With a choreography made in collaboration with Bakani Pick-Up, the gestures and movements were meant to encourage self-care and connection-building. René is a designer that creates garments to connect with others, this is the ethos of his brand.