Knitwear is certainly not new into the fashion industry. However, in the past, knitwear was mainly related to grannies knitting clothes or accessories to their grand-children. Today, the imaginary around this specific field in the fashion industry is deeply evolving. Bold and sophisticated designs are now entering the world of knitwear. This interest for knitwear seems to be in line with the social need of handmade and handcraft. Here is a selection of 3 knitwear designers that represent well the contemporary vision in this field.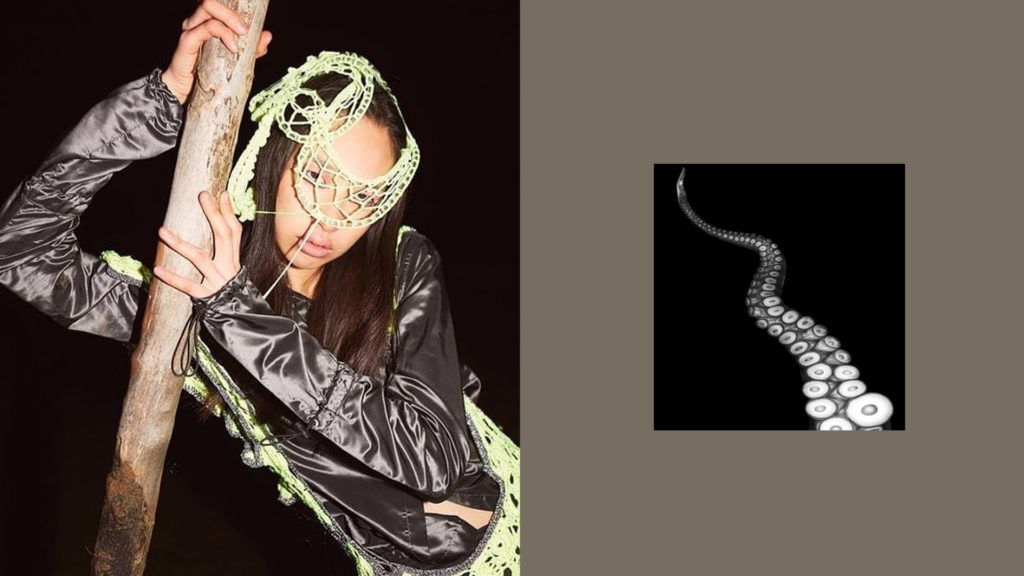 Photo by Barney Curran
Who are you?
I'm Paul Aaron I come from Liverpool, UK! I moved to London 3 years ago when I started studying BA Fashion Design with Knitwear at Central Saint Martin's!
When – and why- did you start to develop an interest for knitwear?
I started doing crochet in my first year of college when we had to do a recycled project- so I crocheted and knitted binbags into a evening gown. I really enjoyed working with binbags too, the movement, shape and structure you're able to achieve is endless. Such a versatile material! I did my final collection In college fully knitted and I really loved working with yarns and making my own fabrics rather than using store bought, it's definitely more special.

How would you define the role of knitwear in the fashion industry?
In one word, underrated. I don't think knitwear gets the appreciation and recognition it deserves… So much hard work and labor goes into creating fabrics and with knitwear especially the amount of trials and errors you have to encounter before creating the final piece is just excruciating. When you think of knitwear people just think of grandmas and ugly sweaters but it's so much more diverse than that and there's so many things you can do with knit.
Which brand(s) would you love to collaborate with? – and why?
I'm not entirely sure on this one to be quite honest, but I love Peter Do. Their brand is stunning, sleek, sophisticated. The complete opposite to my tacky aesthetic, but I'd love to mix the two and think it would be something beautiful! And I'm currently collaborating with Christian Stone on some balaclavas- that's super fun!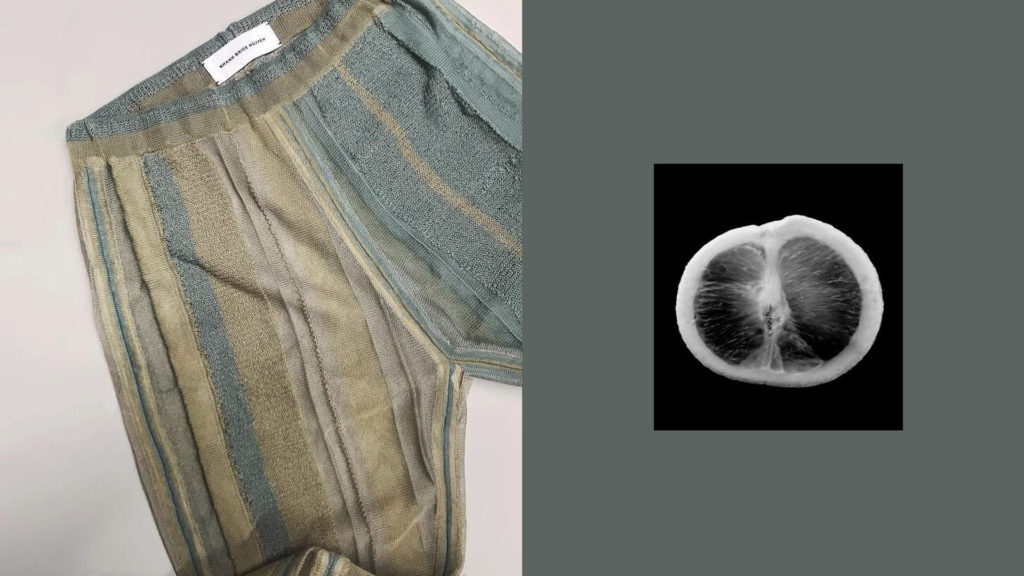 Courtesy of Khanh Brice Nguyen
Who are you?
My name is Khanh Brice Nguyen, I am a French/Vietnamese designer based in London. I have my own knitwear studio since a year, where I freelance for several brands in London and Paris as well as develop my own.
First, I interned many years in Parisian fashion houses like Christian Dior and Sonia Rykiel. I didn't do knitwear yet, but I admired the knitwear team who were designing from scratch : starting with a yarn and creating their own material. As I was very interested to learn, the production team at Dior gave me the contact of one of their factory in Italy. Their name is Volcar and they are located near Venice. I was supposed to help them out for 3 weeks, but I ended up staying for a whole year. I fell in love with the process, with the craftsmanship, I owe everything to them and especially the elder Italian ladies who taught me all the techniques their learnt over a lifetime. It is really at that moment that I found my vocation to become a knitwear designer.
Then I pursued my journey with a MA in knitwear at the Royal College of Art in London. Although I had all that industry experience, I really wanted to find my own voice, define my aesthetic. The RCA was perfect because the course was very technical but also pushed you to be experimental and think out of the box. The main thing I learnt there, was that if the system doesn't work out for you, create your own system.
That is why I founded my own knitwear studio. Especially because right after graduation, I had to deliver a production for my friend's brand Ludovic de Saint Sernin, for who I started to work with during my MA, so I quickly needed to create my own structure. Since then, things escalated quickly, many brands contacted me for freelance work. But I also had many requests from stylists or customers through Instagram who contacted me to shoot/buy the pieces of my own line. Therefore right now, one year out of college, I am working for about 6 brands, and I am preparing my next personal collection.
What makes you special as a knitwear designer? Do you have a specific way to grasp knitwear?
Knitwear is a very controlled, engineered process of making clothes. You have to plan and prepare every step, which in fact doesn't very allow mistakes. But the reason I went back to college is I really because wanted to experiment, and in fact, allow myself to make mistakes.
Therefore for my MA collection, my main inspiration was sound artist John Cage who plays with noise and random elements to create music. I applied the same process in my clothes –playing with accidents and uncontrolled operations. Actually, my signature piece, called the "drop stitch" top embodies this idea. Basically when you knit and make an error, your knit begins to unravel, and the "stitch drops". Starting as an accident, I made a feature out of it.
As a consequence, I kept this approach for all of my designs- I want them to always remain playful, sensual and spontaneous. Although what I make requires a lot of technique – I really want it to feel effortless.
How would you define the collective psyche around knitwear?
I think 15 years ago people would associate knitwear as grandma's jumpers, but now it is also commonly known as those very sophisticated Nike flyknit shoes. So in people's mind, you either have something very crafty, handmade and old fashioned – or the exact opposite, the very engineered, digitally made, performative and sportswear pieces.
I guess my approach sit somewhere in between: I combine traditional, craft methods with digital and innovative techniques.
Which are the main challenges that you are facing within this specific field?
I don't know if it's a challenge or an opportunity, but I get a lot of request from emerging brands who would like to work with me, but I don't have the capacity to respond to many of them. I think every brand nowadays want to do knitwear.
The main issue for emerging brands is the lack of designers and manufacturers who can produce what they want. Most of the time they'd have to reach factories in Italy, but it is often still too expensive for them, or the quantities they have to produce are too low. As a result they can't really complete their ideas, which is the shame because those brands are the ones who have the most creative ideas, very strong ethics, plus what they do appeals to a new generation of customers. So I would say they would need more small knit ateliers like mine, who are based in the capital cities, next to them. I really like working close to them, and I hope I can continue in the future.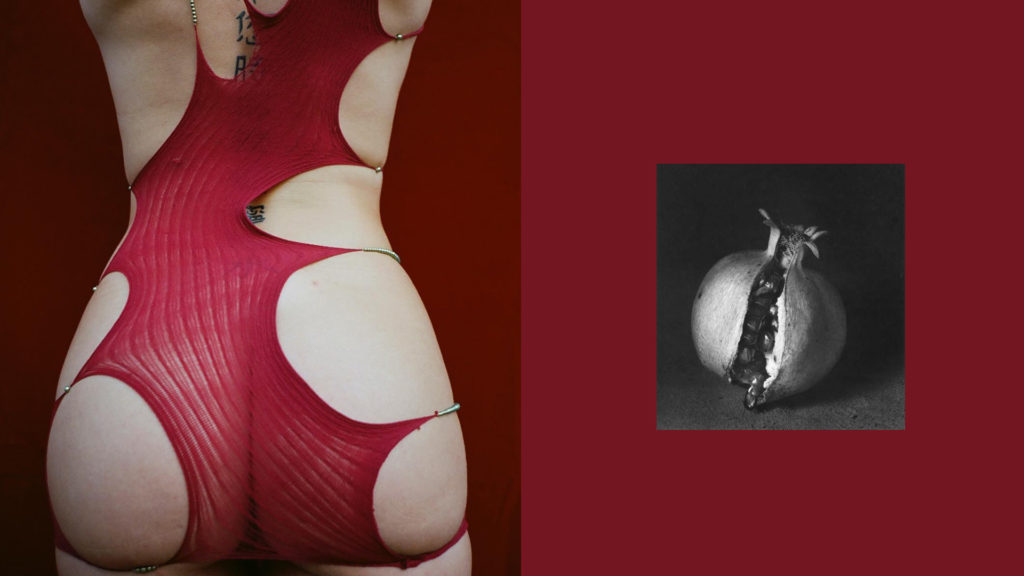 Photo by Zora Sicher
Who are you?
I'm Rui Zhou from China. I graduated from Parsons MFA fashion design in 2018 and I am doing my own namesake brand RUI in New York now.
I work at home now because I just started to do my own collection, everything is not settled down yet.
I've shown my SS20 collection in NYFW as a presentation at my friend's studio in Manhattan downtown on 6th of September, which was my brand's first ready-to-wear season.
How would you define your work as a knitwear designer? What is your own vision of knitwear?
I am obsessed with knitwear, I think knitwear designer starts everything with only one yarn which for me is incredible. Knitwear called "zero-waste", in some extends, it's more sustainable.
Do you think the comeback of knitwear has something to do with the social aspirations based on homemade, craft?
Yes. As soon as an increasing amount of people start to find something is unique, they want to get this "Only One" piece. Moreover, homemade or handmade craft can meet their expectations. Because, some knitwear pieces are handcrafted, they can reach consumers. Actually, knitwear is not meant to only be something that is handmade or homemade. Nowadays, There are knitwear machines that can do more difficult patterns.