We are in an epoch where fashion needs to be more than simple garments. In an article wrote as a guest contributor for Geraldine Wharry, I explored the idea of fashion as a therapy. In times where the quest of well-being is one of the top social priorities, clothing can be a tool to improve people's mental health and well-being. Using as a vessel of individual expression, items are also made to claim commitments or statements. Once we know that it goes beyond ephemeral and meaningless trends, fashion can embody an entire system of values and beliefs. Going even further, it can be a way to heal, mentally and physically.
To understand this specific function of garments, we need to look at the scientific part of the industry. Those past few years have been marked by a deep revolution in the material segment and it is involving a lot of scientific research and technology. What is deeply appreciable in this type of approach is the fact that it is challenging the common idea of fashion as a superficial field. Indeed, it elevates the field to another level, more relevant and meaningful. This is all the point of this Platform, rebuild the system by underlining initiatives that have a real and deep impact on our communities. Today, we are going to focus on Rosie Broadhead that is highly contributing to this process.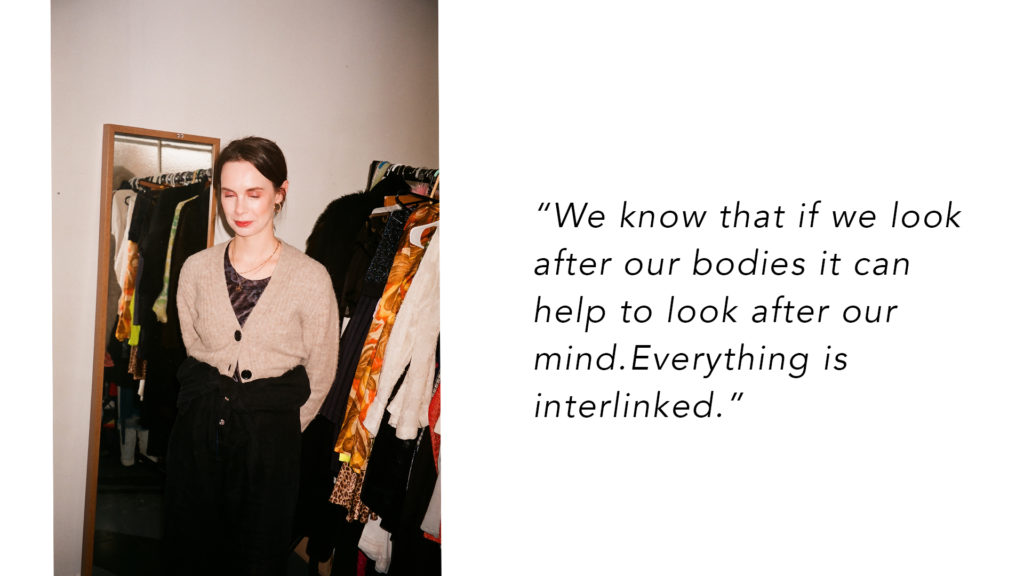 After studying 'Material Futures' at CSM, Rosie started her label by creating garments that have healing proprieties. I had the chance to meet her during London Fashion Week in February 2020 – before everything went in lockdown. We shot her capsule 'Skin Series' in her bedroom with the beautiful dancer Kaivalya Brewerton. The two collaborators and friends are genuinely creative souls that go above the simplistic conception of fashion to deliver a vision full of movements, substance and truly organic. By bringing together, fashion, art and science, Rosie's collection includes one of a kind creations made to improve our lives and she also brings physical and mental benefits to clothing. I always wanted to know more about this segment of fashion and thanks to this interview, I feel Rosie gives us an informative glimpse of the opportunities given by the approach of clothing. Probiotic Clothing – as she calls it – is going above the need of sustainability required in the fashion industry. It is avoiding the use of chemical but also the impact of the latter on individual's health. Rosie's work and research brings awareness in an industry blinded by the quest of endless profit. Not only the need to reconsider is crucial for the planet but for our own well-being.
Can you explain how your studies at CSM as 'Material Futures' shaped the way you do fashion today?
MA Material Futures focuses on exploring how we will live in the future through craft, science and technology. The course encourages a broader approach to design through experimentation, collaboration, and cross-disciplinary studies. We don't just look at design but study technical innovation, advances in science, social patterns, politics, the environment and human behaviour.
This new approach to design differs from my previous education in the fashion industry. This thorough research and development enables me to look beyond conventional fashion design, and in doing so promotes holistically sustainable practices. I was inspired by the innovation of fabric technology and the possibilities it offers and became fascinated by how what we wear can influence our performance, comfort and health.
How your experience in sportswear is influencing your current conception of fashion/ your current work?
My background is in material development and design within the fashion and sportswear industries. I have worked as a designer for luxury brands, and done R&D in sportswear, where the focus was on developing materials that would increase speed, comfort or / and wellbeing.
Some projects I worked on during my time at Rapha include testing the fastest combination of fabrics for the Team Sky Time Trial suit, and the best high vis colours for low level lighting. I have designed for luxury brands where the focus was on natural hand dyed fabric and locally and artisanal techniques. Currently, I work as a design and sustainability consultant for Ski Wear brand Perfect Moment where I focus on reducing environmental impact within performance sportswear.
My recent work considers the relationship with clothing and the body, and how science and technology will influence the future of fashion. My focus is on looking what is natural on our bodies to explore how we can create sustainable yet functional clothing.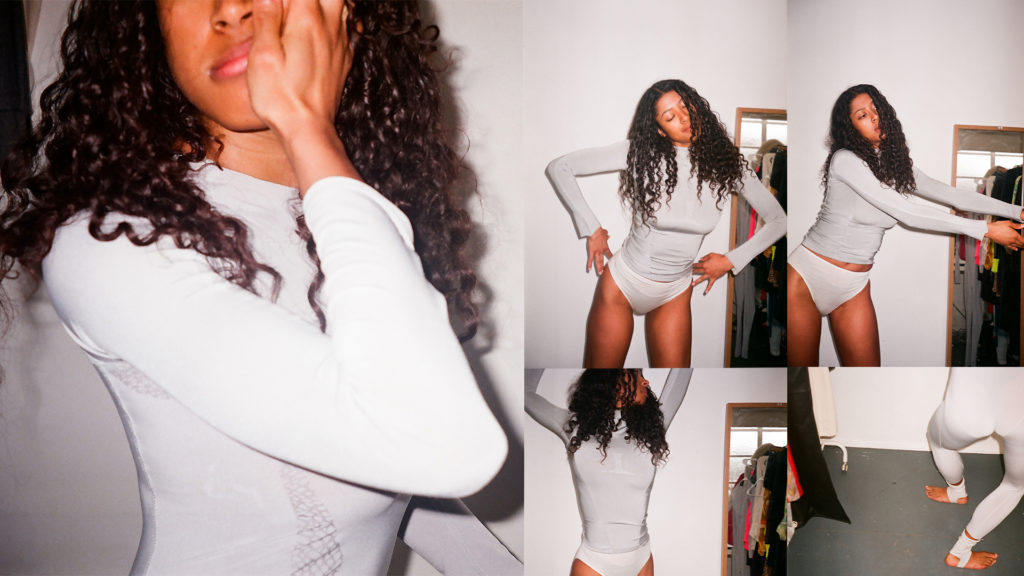 Can you explain the collection we've shot – Skin Series ?
The 'Skin Series' capsule collection developed with stylist Wei Ting explores the current and future possibilities of wellness clothing. The Skin Series collection focuses on the bodies relationship with clothing as a permeable membrane. Our skin's health is impacted by the fabric we wear. Incorporating naturally occurring bacteria into the textile helps to improve the quality of our skin.
So far, the series has developed a technique to incorporate probiotic bacteria (a bacteria which is common on the skin) and magnesium sulphate. I also make use of existing seaweed and milk protein textiles. All these ingredients have known therapeutic benefits for the skin and body. I wanted to develop a collection that explored the current and future possibilities of wellness clothing. The aim is to use what is natural on our bodies to advance the performance of clothing.
How technology will influence the fashion industry in the future according to you?
I would like to see technological developments in the medical industry to start influencing textile and fashion design. This would mean looking at the skin and clothing as one entity.
Textiles are traditionally known for their ability to soak up liquid but advances in fibre technology reveal that they have the capacity to release substances too. The health care industry relies on absorbent fibres to release medication through the skin through transdermal drug delivery. Through this kind of technology, it has enabled fibre and textile manufacturers to develop new concepts to the markets. Additionally, I would like to see a meaningful collaboration between scientists and designers in order for us to develop new materials and technology, not only to decrease environmental impact, but design in a way that is contemporary and relevant
What are biomaterials?
'A biomaterial is any substance that has been engineered to interact with a biological system for a medical purpose, either a therapeutic or a diagnostic effect. I am working to manipulate the microbiome through biomaterials with ingredients that are already common and natural on our skin.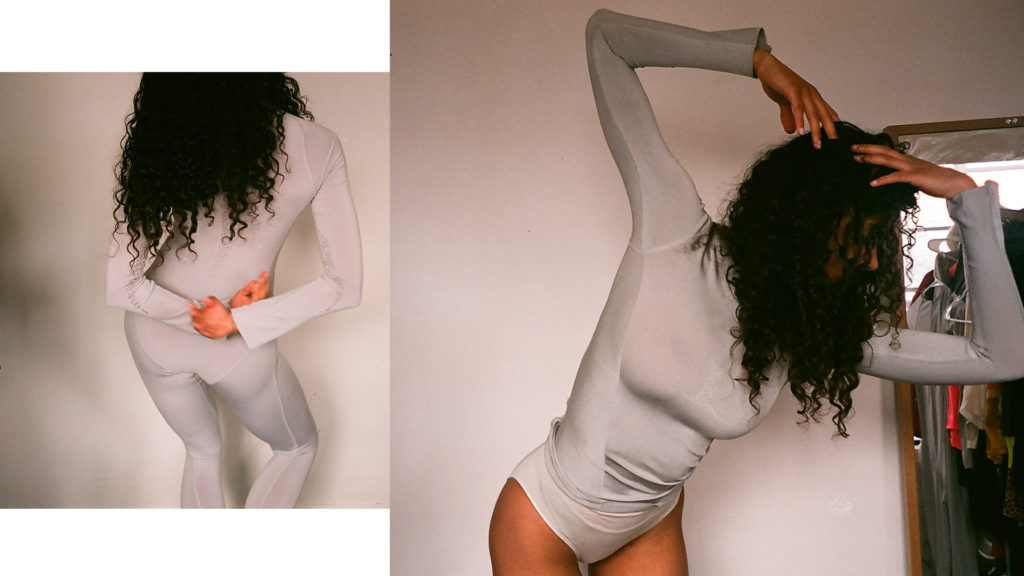 Can you explain your work on probiotic clothing – how does it created? how does it work?
Working in performance sportswear I became interested in the interaction between clothing and skin. My research into bacteria and skin started through my interest in how the body functions. I started to look at cosmetics and deodorants and how these products interact with skin. This led me to consider how I could incorporate this technology into clothing.
I worked closely with a microbiologist to develop 'Probiotic Clothing' by incorporating bacteria into textiles. The project focuses on the skin's microbiome and how we can develop a healthy flora through science, technology and design. My focus is on looking at what is natural on our bodies to explore how we can create sustainable yet functional clothing. The idea is that it replaces the need for chemicals on textiles and the need for washing clothes so regularly. I think cross-disciplinary projects can provide new solutions to performance clothing and sustainability
Why is so important to you to create garments that have healing properties?
The skin is the largest organ in our body. Its complex surface and semi permeable membrane interact with our biology and the environment. The skin's responsibilities include heat regulation, releasing toxins from the body through sweat and protecting us from chemicals and micro-organisms. The semi permeable nature of our skin has an important role that coordinates the function of our whole body. We spend so much time wearing clothing, but we often forget or are naive of the harmful chemicals that go into the makeup of the fabrics.
First and foremost, the health benefits come from not wearing performance clothing that has been treated with chemical finishes. These chemicals can be toxic to the body and therefore detrimental to the health of the wearer. Probiotic clothing is an alternative that provides deodorizing benefits and encourages cell renewal without toxic chemicals.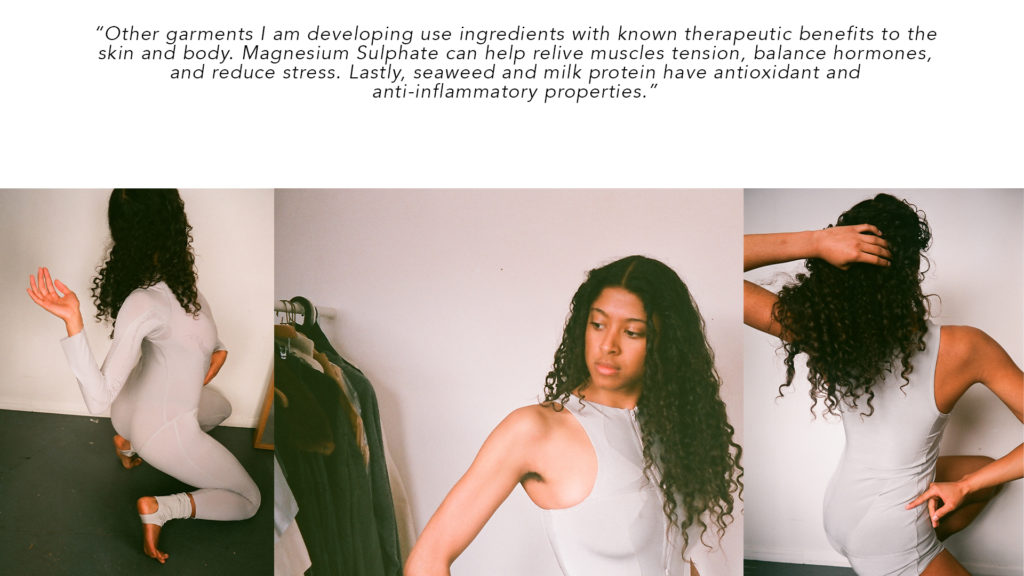 What are the benefits of your clothing on people's health?
Optimal skin conditions depend on the probiotic bacteria or microbes that live on our bodies. Our skin's biome is shaped by our natural environment, and what we put on and next to our skin has a direct impact on our bodies. Cosmetic products and fabric finishes on clothing can contain toxic chemicals, which disrupt the diversity of bacteria living on our skin. As the skin is a semi-permeable membrane these toxins, heavy metals and other pollutants can affect our health.
Probiotic Clothing explores the benefits of encapsulating probiotic bacteria into the fibres of clothing. These are activated when they come into contact with the moisture on our skin, allowing them to dominate other less beneficial bacteria. For optimal results, the probiotics are strategically placed in key areas where you would normally sweat. The encapsulated bacteria are associated with reduced body odour, encouraging cell renewal, and improving the skin's immune system.
This process not only replaces the need for chemical fabric finishes, but also reduces the need to wash your clothes as frequently. Rather than relying on the properties of these chemicals I focus on what is natural on our bodies to advance the performance of clothing.
More than sustainability, do you think, in the upcoming years, healing clothes will be democratised?
As a designer I don't believe we should design anything without considering sustainability, and the impact the materials and processes have on the environment. In my practice sustainability means looking closer at what is already natural and common on our bodies to develop more responsible solutions to performance wear.
A lot of focus is on the fashion industries unsustainable practices concerning waste and environmental impact, however much less is known about the use of chemical finishes on our clothing that can impact our bodies. Primarily, I wanted to create clothing that was healthy for our skin with minimal impact on the environment, which meant working with what is already natural on our bodies, the microbiome.
In terms of democratising therapeutic clothing, I believe if we have a better understanding of the compositions and finishes in our clothing, we will have more control on how to change that system. Once we understand the semi-permeable nature of skin, we will start looking after the skin in the same way we look after the rest of our bodies. Starting with what we wear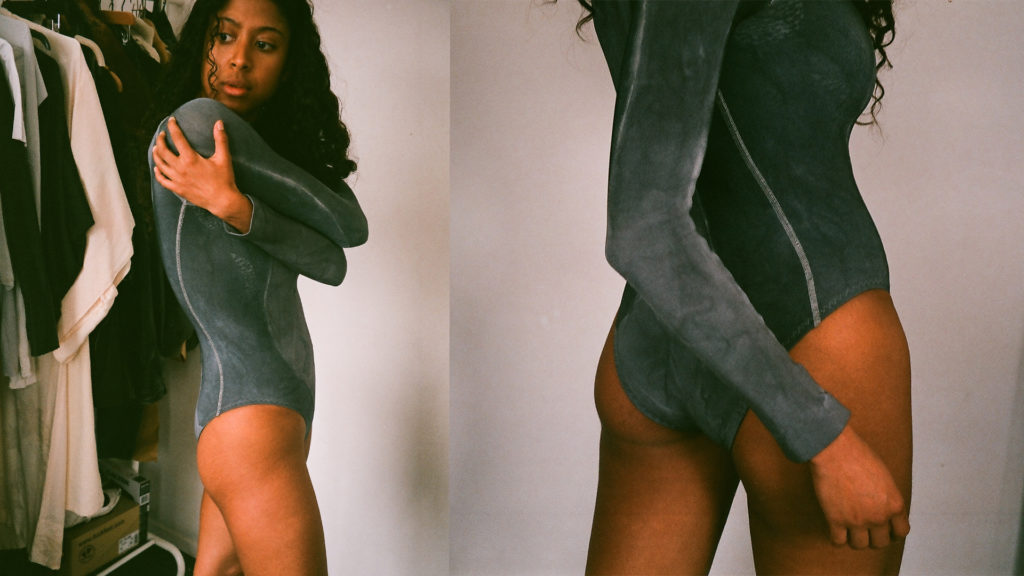 Where does your research on this matter – sustainability and healing garment – lead you?
Clothing can form a barrier between the body and environment and increase the ability of the body to function in a variety of settings. Performance wear promotes the idea that we can prepare ourselves for all contingencies; that your clothes can be completely functional. The aim of many designers of performance clothing is to foster and promote an equitable balance of self-sufficiency and connectivity with the environment
What are your projects and hopes for the next few years?
My collaborator and I have received a grant from Ghent University in Belgium to continue our research into probiotic clothing. Our hope is to commercialise the concept over the next couple of years. In the meantime, I am working on developing clothing which have healing and therapeutic benefits by making use of existing technology.
Do you think the current situation – Covid-19 – will be an opportunity to redefine the fashion system overall? How?
Considering fashion is one of the most polluting and also biggest consumables on the planet, this may be an opportunity of designers to become more resourceful and to search for materials and processes more locally. This could help develop a more circular design process, where we only use what is easily available to us, and responsible for where it ends up. This pandemic has the potential to affect consumer behaviour long- term. I think this is an exciting opportunity for designers and consumers to consider what is important.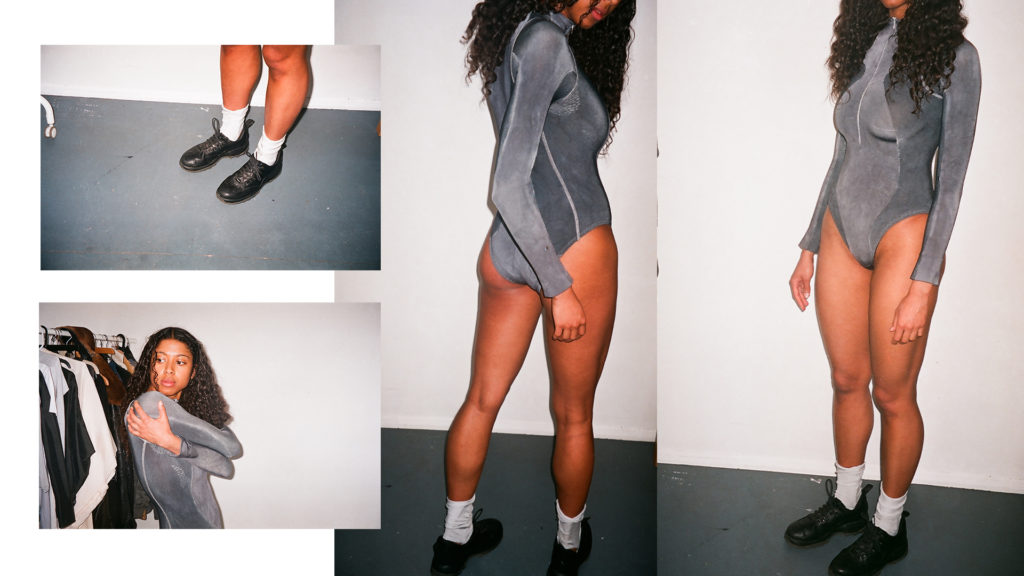 Model/Dancer – Kaivalya Brewerton, Fashion – Rosie Broadhead, Photo – Koura-Rosy Kane