Here we are in December 2020 with a global pandemic that is still running around the globe. At first, we didn't really know how to react to this unexpected phenomenon. However, now that we are into the first year of this health emergency, it feels that we don't have any choice but to adapt our lifestyle to this new reality -or normal. While I was really thinking about Fashion Week being cancelled this year, it seems the fashion industry – at least the establishment labels – is not ready to give up on its old habits.
Last year, the question of cancelling this event was already part of the options considered. As the ecological emergency was already a reality, it would have been a way to avoid any more pollution or waste. But it seems like even a global pandemic is not able to make the fashion industry question its own harmful mechanisms. Often, the response of these brands feels completely off the mark. Besides feeling deeply irrelevant this year, the Fashion Week is also the scene of social claims exploitation. This season is the one of 'Woke Washing'. I truly think this was the best concept introduced lately. ' refers to the action for a company to exploit struggles faced by actors into the social structure in order to fake commitment and to make profit out of it. This action is simply pernicious since it alters the deep meanings of these causes. The danger of activism into the fashion industry is totally out of control. This season should have been about taking perceptives and reflecting on the pace of the fashion industry. Traditional Fashion Weeks should have been cancelled this year and we should have all accept it.
Fashion East SS21
While London and New-York were mainly digital this season, Milan and Paris chose to maintain the physical catwalks while trying to respect social distancing restrictions. France was – at the time of this event – in middle of a second wave of COVID-19 with more than 12 000 contaminations within 24 hours. Ignoring risks seems a dangerous game to play since we are ignoring a lot of aspects about this virus. More than stick to the regular program, some of the collections presented were clearly abusive and pointless. Louis Vuitton introduced more than 100 looks this season for its SS21 Menswear collection – ignoring completely the public claims regarding overproduction. Besides having too many looks, this collection feels very poor in terms of creative design and research. It is hard for me to understand how we are still discussing this matter after all that happened this year.
Despair feels the appropriate feeling when thinking about the state of the fashion industry lately. Nevertheless, as it is crucial to stay hopeful, I have to admit that some of the solutions explored by designers this year to introduce their collections were deeply ingenious. It sets the ton for the future possibilities we have in terms of presenting new creations. Dutch designer based in Amsterdam, Duran Lantink recently collaborated with Names Digital to elaborate a VRC C4D showroom. This immersive and virtual experience were displaying Duran's recycling designs in a brutalist decor gathering a lot of artistic details. It is easy to spend a lot of time, observing this online bubble. Slowing down the pace by appreciating fully the creation and its details. This approach is in line with the concept of slow fashion defined as " the movement of designing, creating, and buying garments for quality and longevity. It encourages slower production schedules, fair wages, lower carbon footprints, and (ideally) zero waste." (Study NY)
Duran Lantink x Names Digital virtual showroom
While speaking to Richard Thornn, PR manager at Names Digital, we can see that this digital approach is also a way to fit with the audience's emerging aspirations. " Fashion shows/seasons need to slow down if not stop. The consumer today does not follow trends, colour stories or seasonal needs but acts more on an emotional connection to the brands they love. As we move into a truly digital era, brands will need to become more conscious, purposeful and innovative in the way they present themselves." With ten years of experience in this field, Richard has helped to produce some of the most thrilling exemples of wearable tech "with companies such as Studio XO, as well as working for Lady Gaga and Black Eyed Peas which really allowed [her] to truly push the boundaries of fashion." As a Creative Director, he is working in this grey space between fashion and tech to create innovative solutions able to morph the digital landscape. "My aim is to grow a fashion tech business which pioneers and to create these opposing industries to work in harmony. I see this as a life long ambition not a comic or gag, it's not just a moment in time digital is here to stay" he adds.
Duran Lantink x Names Digital virtual showroom
Richard likes to visualise a Digital Utopia where you can explore shared digital experiences. Deeply bound to the Gen Z – that "are using tech in the shared economy, expiring their identity across IRL and DRL (Digital Real Life)" – this concept embodies future aspirations and approaches. "Gone are the days of scrolling endless pages, gawping at images, we now see a trend towards fashion kids walking through virtual worlds and exploring brands on a much more ethereal and emotional level" says Richard. Nowadays, the fusion of gamification and fashion is in the zeitgeist and it gives an opportunity to Monica and NAMESldn to be a pioneer in this alternative era.
Besides being the future of fashion, this digital approach allows to embrace a more sustainable path. Thanks to digital shows, they are cutting out the large runways productions without taking away the magic of such events. Equally, the same environmental advantages are visible for sampling, shots and shops. For him, digital allows "less waste and carbon footprint. Fashion is one of the main contributors to why our planet is dying and fighting back. We need to stand up and make a change." A change is coming that it is for sure. As mentioned by Richard, physical shows have long been a dying art form. "We live in a world now where technology is everywhere yet fashion being the 'trend setter' is the last to join the movement" he continues. In this undefined area, there is a chance to build a fashion space that fits better the coming age. For Richard it is an opportunity to create a system that is more inclusive and diversified. It could allow us to transpose it in the reality as well. As the possibilities and options are endless, we don't need to restrict our ideas and minds while defining this Digital Utopia. As long as there is a reliable wifi, they are able to create "anything you can imagine with a team of hybrids from across the fashion, graphics, gaming and tech industries." One of the keys for the future of fashion shows lays in the interaction of fashion with tech fields. For Richard, "the wonder of digital is just emerging" and this is certainly an exciting period to explore.
Although the potential of digital shows is unquestionable – especially in the years to come, it won't be the only way to present collection as mentioned by knitwear designer Khanh Brice Nguyen. Research shows that although interest for online experiences are growing, the physical and human aspect for labels remain essential to connect with the audience. Forecasts highlight that in the future, a lot of e-commerce will invest in physical shops as a way to encourage a more local approach. We could suggest that for fashion presentations, the trend will be the same.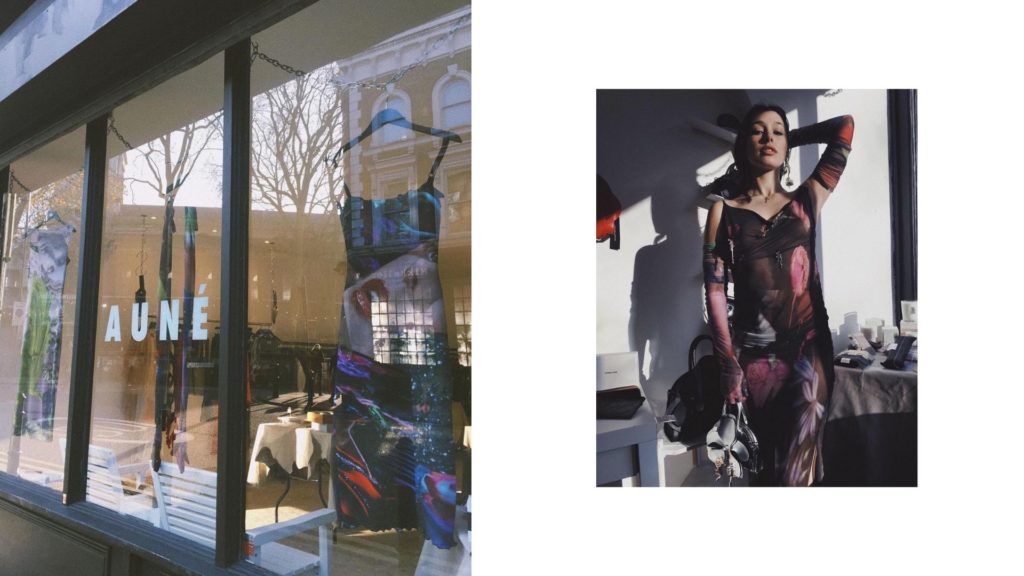 Auné Pop-Up Store
During the first lockdown, Khanh and I had an interesting speculative conversation about the future of fashion weeks and fashion shows. Like Richard, he is convinced that "fashion weeks have been irrelevant for several years. They were dragging on for too long, with too many types from women, men, couture, overlapping each other. Not to mention the fashion week marathons from one city to the other. I don't think anyone – from the audience to the brands themselves- were able to keep up with all of that." While questioning the actual system, the notion of pace is often mentioned as a real problem. We come to a point where it is hard to truly appreciate collections or concepts since we don't really have the time to truly mentally proceed them. According to Khanh shows are about creating a moment, an emotion. The energy given by such event cannot be replaced by digital, however there is no need to wait fashion week to present collections. "I think brands should curate those events when it feels relevant to them, when they are ready for it and have something to say that they can only be produced live. It would be just like releasing a movie or dance show. You don't come on stage unless you have rehearsed enough and have something complete to show to the audience" he declares. Khanh thinks in the future, digital presentations will be mixed with digital showrooms.
This season, maintaining physical shows were unnecessary – "if not even irresponsible and unsafe, since we were still under tight social distancing measures." On the other hand, independent and emerging labels proposed exciting and interesting ways to showcase their collections. For instance Steven Passaro "a Paris-based designer, which involved Virtual Reality. He invited a few guest to see physically his collection in a showroom. When they put goggles on, they could see the clothes evolving through VR. And for Instagram, a QR code sent by mail allowed to see the same digital projections that were shown through the VR goggles." The association of physical and digital experience should be driven by one concept able to make a real difference in the narrative: Storytelling. By approaching each aspect through the lens of storytelling, brands would be able to elevate their game and make it consistent.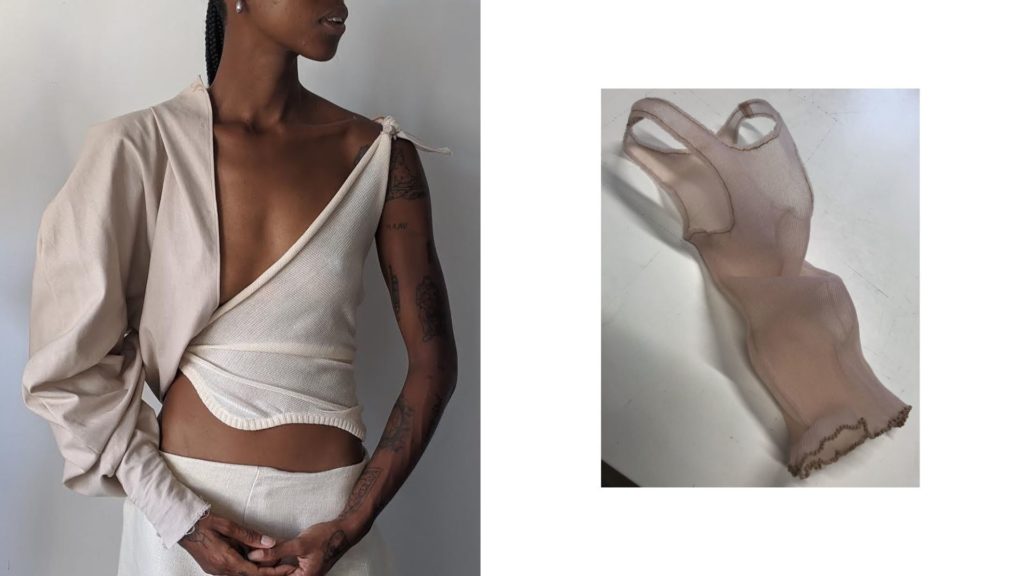 Courtesy of Khanh Brice Nguyen
To avoid woke-washing, we need to look for continuity in brands' history and legacy. According to Khanh, " the audience and customers are the best judges here. We can easily spot if a brand message is authentic by matching it with their actions. In my opinion, transparency is key. Personally, I would never label my studio and my brand as eco-conscious, but I consistently share my process to the community and customers." The need of authenticity is as important in the fight against woke washing than in the quest of relevant storytelling. It is important to see the latter as more than a simple marketing strategy. It defines the DNA of fashion labels and needs to be truthful to their vision. As an entity, brands owe transparency to their audience – as a sign of respect. "Setting your story straight out there helps define that and makes it relatable to others" as suggested by Khanh. Sharing your purpose through stories that allows to connect with customers will remain an essential factor in the future and this even though the digital sphere is growing. "Either it is about a certain body image you want to celebrate, or you want to represent a community, or you are about saving crafts, I think nowadays, you really need to have a purpose to have a brand."
Going inevitably through a digitalisation of the fashion industry makes us questioned about alternatives form to create collections and to showcase them. In the future, we could think that only technological tools will lead the market but it is important to nuance such statement. Indeed, it is where there are abusive uses that more traditional ways are re-emerging and are recycling. For fashion shows, we should see increasing digital propositions, however, punctual events will be maintained to embrace deeper immersive experiences. It is by blending the two approaches the industry will be able to move forward in compliance with the social aspirations.