Nevertheless, when you look closely enough, you can see that emerging fashion is living its own way in the city of New-York. Some brands are growing in an environment's core based on business mainly. In this competitive world, with an audience easily fed-up with new collections, the commercial part of the all creation process is heavy. It's the unresolved question of ethic into the fashion industry: should fashion only be about selling clothes to grow?
A subculture composed by young designers is trying really hard to bring such creativity within the industry. Their collections could be seen as quite commercial – compared to some European designers – however, there is something very interesting in their approaches. Beyond the capacity to sell clothes, they are trying really hard to make the conception of American fashion evolve. Even if the public's attention stays mainly focused on the big brands' runaways, they managed to unite a community that looks for another way to grasp fashion in the Big Apple. Many fashion labels could fit in this line for the SS20 collection, here is a selection of 3 shows that are revealing this alternative way to create fashion in the Big Apple.
Sunday, September 8th – 5pm – Rutherford Place at E 15th Street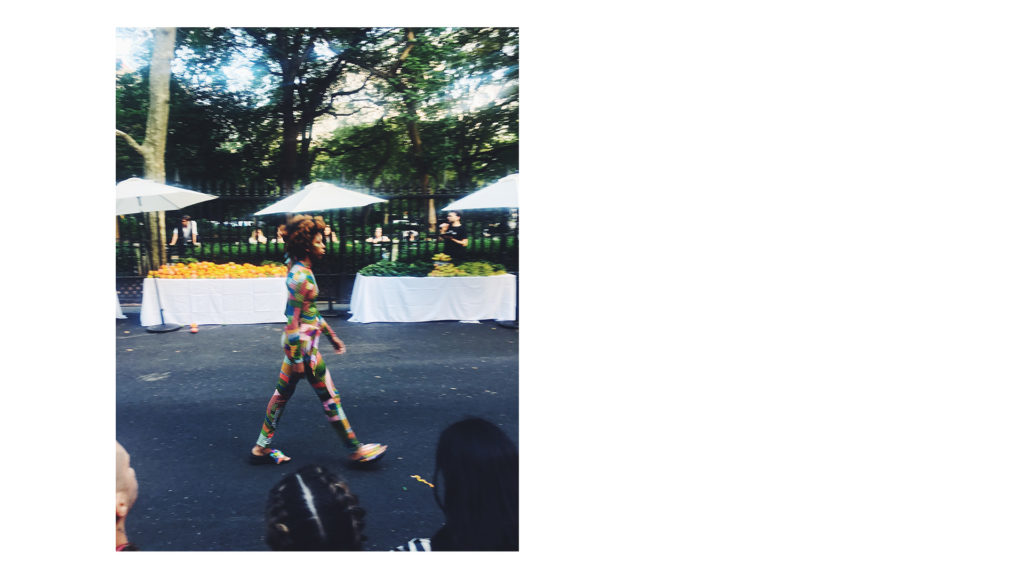 'Sustainability is a journey, not a destination' tells us Hillary Taymour for her SS20 collection. The runaway took place in a little street near a nice park within Manhattan. The setting was very participative and was composed of farmer market food – fruits & bread. At the end of the show, the designer kindly invited us to take some of it away with us. The show started with the beautiful singer Zsela, performing a song full of melancholy and quietude. Besides a wonderful setting and a nice collection made from repurposed materials, this show had a very interesting approach. It was not only models on the catwalk but real personas. Kids, young people and older people, were featured as human first, and not models. Far from the traditional runaway, we were invited to an all-inclusive show that made fashion (eco) friendly. A short manifesto on clever ways to help our planet was given to the audience. Hillary is trying very hard to be as responsible and transparent as possible. She invites us into this journey through sustainability, claiming that the climate crisis shouldn't be ignored even within the fashion industry. A message more than relevant in the our current context.
Monday, September 9th – 7pm – 76 East 13th Street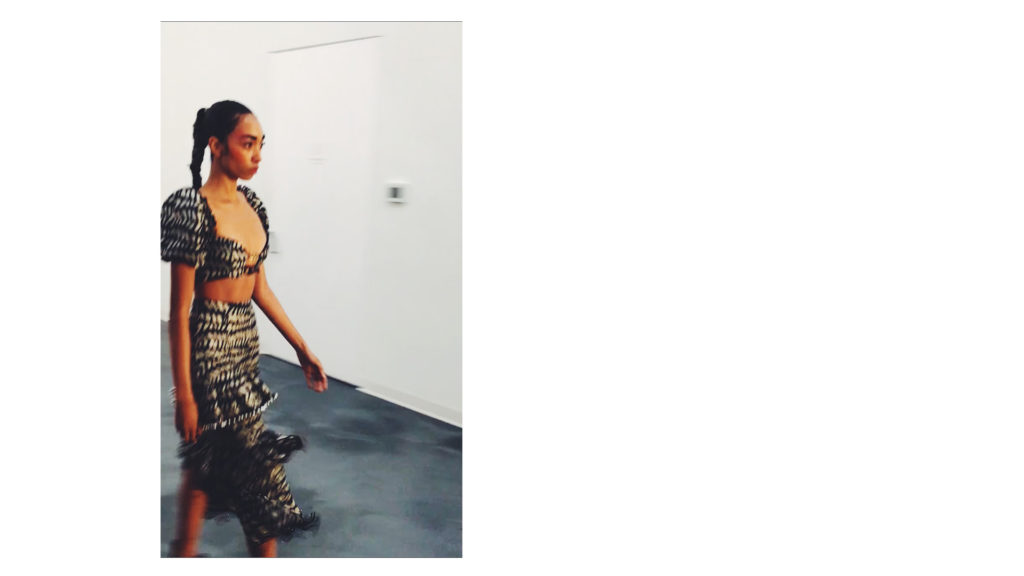 After taking some time away from the Big Apple and from the western culture, Osakwe is back in town to present her SS20 collection at NYFW. This Nigerian designer has been running her label for 10 years now and she cleverly used her heritage since then. Everything from clothing to beauty is heavily inspired by her culture and it is what makes this brand so interesting. The venue for this show was really intimate and simple. Halfway between Greenwich Village and East Village, this white space – almost neutral – was the perfect setting to incorpore her Lagos vibes, resulting from her time away. Not only the patterns such as Adire catch the attention, but also the endless braids held by the models. Maki Oh certainly gained a notoriety throughout the years and it is easy to see why. By glorifying African culture overall, this label is a good example of what African fashion actually is. The common conception of fashion from this continent is deeply misguided. Often, when it comes to define African fashion, we think it is always and only about pattern. Osakwe shows us that this is more than that. We don't need to use traditional pattern to claim that it is from Africa. The simple fact that the clothes are made from an African designer is enough. No need to feed the stereotypes on African fashion by using those well-known patterns such as wax. Houndstooth is a french patter, nevertheless, we don't see it in every collection during Paris Fashion Week. Maki Oh is leveling up this vision of African fashion, and her last collection is a good testimony.
Tuesday, September 10th – 6pm – 49 Elizabeth Street Fourth Floor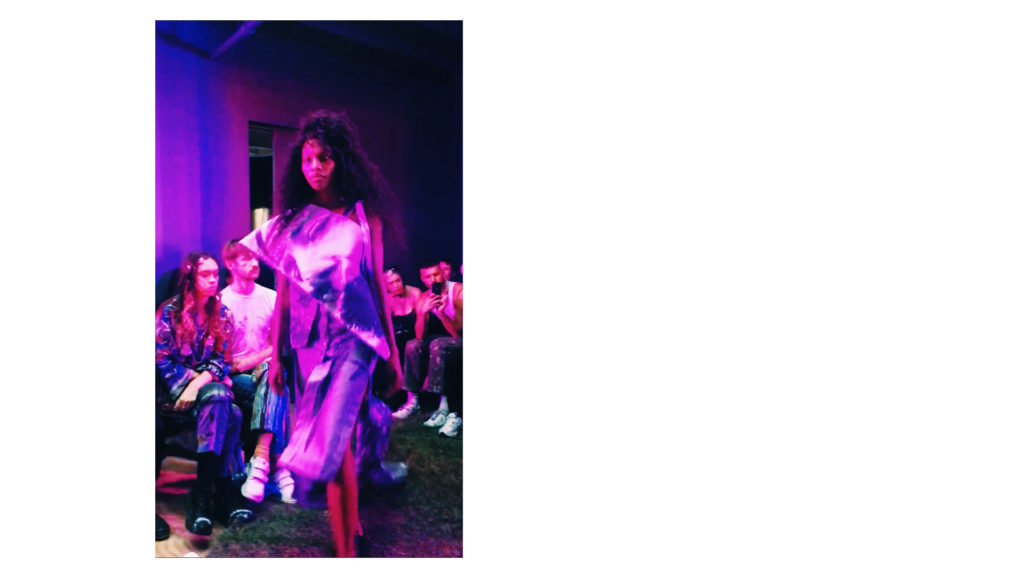 It wouldn't be accurate to talk about emerging / alternative fashion in the Big Apple without mentioning LRS Studio. First of all, their e-invitation was one of the best I received lately. Just like the label, it was very uncommon. Indeed, this short gif was showcasing Google researches around the event. Key words such as the the location, the date and the hour was entered to underline the Google results. Besides this clever invite, the show was highly interesting. Entering in a small space with a purple light, the ambiance was for sure intimate, but not only. Uncomfortable is the appropriate word to describe the atmosphere during the show. Sitting in front of Hillary from Collina Strada has made the overall situation even more special and odd at the same time. You know that you are in the right show when you see other designers showing during fashion week, sitting in the front row. The music was mainly based on piercing sounds that went perfectly well with the collection presented: always something odd and unconventional in the looks. I left this show obsessed with those pants falling on the shoes and disturbing the entire conception of such items. LRS is for sure a bold label, not afraid to challenge the traditional approach of tailoring.
Personal note: New York Fashion Week is certainly an interesting experience to live. However, I felt that the influencers sphere was too present. In a context were appearance is more important than your intellectual capacity and your real contribution to fashion industry, we can easily forget the point of a fashion week. Which is not to dress up to have the best streetstyle but to enjoy and analyse the new collections made by talented designers. On that specific point, I feel that London is more relevant.